A 28-year-old man has pleaded guilty in London court to the gruesome killings of his mother and father.
Jeremy Gubbels pleaded guilty Tuesday to two counts of first-degree murder in the deaths of Mario Gubbels, 54, and Susan Gubbels, 55, of Warwick Township. Both were stabbed several times.
His mother's body was found in the couple's home on Arkona Rd on July 13, 2014. Later the same day his father's body was discovered inside a vehicle in a downtown London parking lot.
Gubbels will be sentenced following victim impact statements on August 4.
First degree murder convictions come with an automatic life sentence with no chance of parole for 25 years.
-with files from Ashton Patis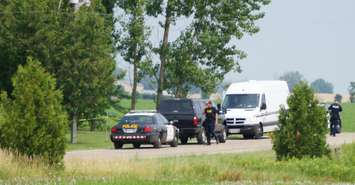 Police on scene outside a home on Arkona Rd where a woman's body was found July 13th 2014. (BlackburnNews.com photo by Jake Jeffrey)