Two more tornadoes have been confirmed to have ripped through southern Ontario over the weekend, for a total of six in one day.
Investigators with Western University's Northern Tornadoes Project (NTP) confirmed on Wednesday that an EF1 tornado tore through the Lambton Shores area on Sunday, July 19.  The tornado had a max wind speed of 155 kilometres per hour, and a path that measured 15.4 kilometres long and 200 metres wide. Significant damage was reported on a dairy farm in the area between Arkona and Thedford.
NTP survey teams also confirmed an EF1 tornado in the Blyth area on Sunday, which had a max wind speed of 135 km/h. The path of the tornado was 6.7 kilometres long and 50 metres wide.
The team of surveyors with NTP have now confirmed a total of six tornadoes across southern Ontario after spending the last three days examining destruction paths in affected areas.
An EF0 tornado in the Belmont-area and an EF1 north of Lucan were both confirmed on Monday. As well, another EF1 was assessed and confirmed in Beachville Tuesday afternoon, along with an EF1 north of Stratford in Gads Hill. A waterspout spotted during the storm offshore from Bright's Grove over Lake Huron was also confirmed by the NTP assessment team. With no evidence of any damage associated with the waterspout, it has been given a rating of EF0-Default.
An EF0 and EF1 are at the lower end of the Enhanced Fujita (EF) Scale with winds topping out at 130 km/h and 175 km/h.
The NTP team said Wednesday evening that no further ground surveys are currently planned for the July 19 storm, but hi-res satellite data will be analyzed for other areas of interest.
-With files from Miranda Chant.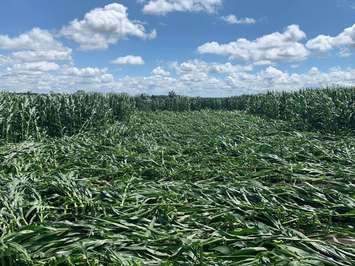 Damage caused by an EF1 tornado in the Blyth area, July 19, 2020. (Photo courtesy of the Northern Tornadoes Project via Twitter)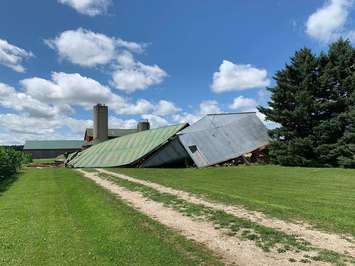 Damage caused by an EF1 tornado in the Blyth area, July 19, 2020. (Photo courtesy of the Northern Tornadoes Project via Twitter)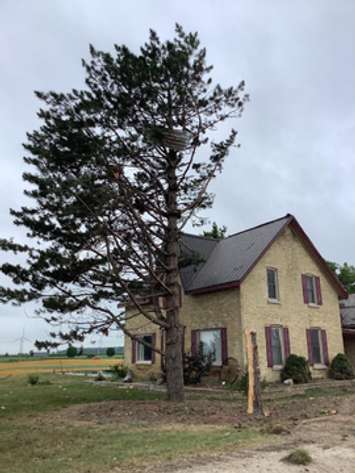 Damage caused by an EF1 tornado in the Lambton Shores area, July 19, 2020. (Photo courtesy of the Northern Tornadoes Project via Twitter)